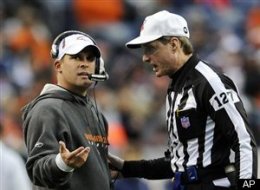 The Denver Broncos fired head coach Josh McDaniels on Monday.
McDaniels, who amassed a 11-17 record in less than two seasons with the team, had been facing heightened criticism thanks to the team's tumultuous season and a scandal in which the team was caught videotaping the San Francisco 49ers' practice during a game in London.
The 34-year-old McDaniels became one on the youngest coaches in the NFL when he left the New England Patriots in 2009 to replace veteran Mike Shanahan as the Broncos' head coach.
His tenure in Denver was marked by controversy almost immediately when a dispute with star quarterback Jay Cutler prompted the team to trade Cutler to Chicago.
Nonetheless, McDaniels started his head coaching career 6-0 in 2009. The Broncos, however, have won just 5 of its 22 games since then.
McDaniels has been criticized for series of questionable personnel decisions, including a trade of running back Peyton Hillis to Cleveland, and the team's surprising decision to draft Tim Tebow in the first round of the 2010 NFL draft.
On Monday, prior to his firing, McDaniels said at his weekly press conference that he was reluctant to start Tebow even though the team had been eliminated from playoff contention.
Story continues below
Advertisement
Despite these perceived missteps, it was McDaniels's involvement in the event that became known as Spygate 2 that many believe sealed his fate as Broncos coach. The incident occurred during the team's game in London when Broncos video coordinator Steve Scarnecchia filmed a San Francisco 49ers practice and attempted to show it to the coaching staff. Although McDaniels refused to look at the tape, he and the team were fined $50,000 for failing to promptly report matter.
Broncos owner Pat Bowlen called the incident "personally disappointing" in a statement at the time.
"My decision to relieve Josh McDaniels as head coach was not taken lightly," Bowlen said in a statement Monday. "I will always be appreciative of his passion, enthusiasm and hard work, and I thank him for his efforts. In the end, I was not satisfied with the results and the direction this team was headed. The decision to make a change was extremely difficult but one that needed to be made for this organization and our fans."
The Broncos announced McDaniels' firing after players left the team facility at 3:00 PM on Monday. Receiver Brandon Lloyd told Sports Radio 104.3 The Fan in Denver that the announcement caught the players off guard. "I didn't think it was going to happen, not now, not at this point in the season," Lloyd said.