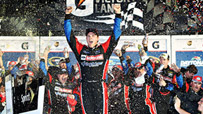 Trevor Bayne is the second youngest driver to ever win a Sprint Cup Series race.
Welcome to SportsNation! On Monday, we'll celebrate Trevor Bayne's unbelievable win at Sunday's Daytona 500 as the 20-year-old stops by to chat.
In just his second Sprint Cup Series start, Bayne held off Carl Edwards to take home top honors in the Great American Race. It makes the Wood Brothers driver the youngest winner in the 53-year history of the Daytona 500.
Send your questions for Trevor Bayne now and join the chat Monday at 1:20 p.m. ET!